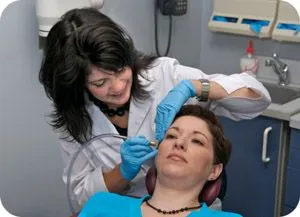 Microdermabrasion is a skin-freshening technique that helps repair facial skin that takes a beating from the sun and effects of aging. Maintenance of results requires periodic repeat treatments after the initial regimen is completed. Microdermabrasion may be combined with a light chemical peel to increase the effect.
Dermatology Associates of Tampa Bay utilizes The DiamondTome Skin Resurfacing System, as seen on Extreme Makeover. Key points about the system:
Exfoliation occurs only as the wand is drawn across the skin.
No loose crystals or other abrasives that contaminate you or your environment.
Even at its highest settings, DiamondTome is regarded as a gentler resurfacing system yet provides more dramatic results than other skin care systems.
Achieve skin rejuvenation without the adverse effects of loose particles, burning, irritation, and skin reactions.
The precise diamond wand chip size and vacuum settings assure the appropriate amount of exfoliation that will produce uniform results.
The microdermabrasion procedure takes approximately 15-20 minutes. Results are not permanent and may be maintained with periodic retreatment as determined by the doctor or physician assistant.